FRANK WORKED CLOSELY WITH THE HISPANIC COMMUNITY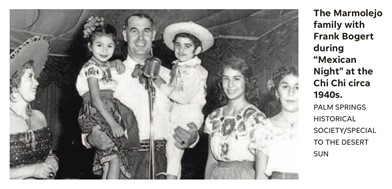 Mexican Heritage is deeply ingrained in the story of Palm Springs and no one was more enchanted with those traditions than Frank Bogert. Vera Prieto Wall recalls that her father felt so fondly about Frank that he nicknamed Frank, "Pancho." Like many, her father fled the Mexican Revolution to the safety of the United States. He found work at the El Mirador Hotel and there met Frank Bogert. They became lifelong friends. Vera, who was born on, and lived with her family on Section 14, co-authored the book "We Were Here Too!" about the history of the Mexican community in Palm Springs. She recalls Frank working tirelessly to help the community, exemplifying "friendship" and "harmony."

FRANK WORKED WITH HISPANIC LEADERS TO BRING IMPROVED HEALTHCARE TO COACHELLA VALLEY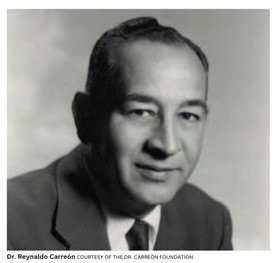 During his time as Mayor, Frank worked with Dr. Reynaldo Carreon, as part of a dedicated group of citizens who brought hospital services to the Coachella Valley. Carreon founded Indio Community Hospital — despite being told at a young age that he shouldn't try to become a doctor because he was Mexican—bringing healthcare to the east valley.  Not only did he succeed spectacularly, Carreon served his community for years and endowed a scholarship fund for students of Mexican-American descent. For his vision and leadership, Mayor Frank Bogert declared Carreon "a foremost citizen of the valley."
FRANK WORKED WITH THE AFRICAN AMERICAN COMMUNITY
Frank worked closely with the African American community, in the heart of the Civil Rights movement. Pastor Rollins was just one of many community members he worked hand in hand with to help build up Palm Springs.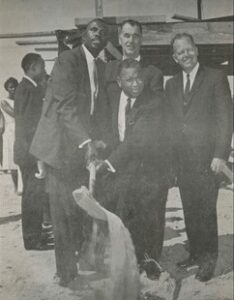 A groundbreaking ceremony was held on September 1, 1963. The event was photographed and later published for the booklet memorializing its completion. The caption read, "the long-awaited historic day when action really began on the building for First Baptist Church…participating in the event as Pastor Rollins turns the initial shovelful of dirt are …Elder L.K. Griggs, Mayor F. Bogert, and Dr. James H. Blackstone, Jr…. An enthusiastic and thankful crowd of members and well-wishers was on hand for the event."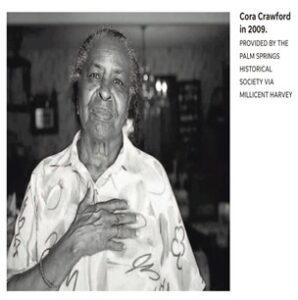 After President Lyndon B. Johnson declared war on poverty and Sergeant Shriver was tasked with helping children in poverty, Frank and other community leaders worked to support the Palm Springs Child Development Center, a project associated with First Baptist Church. Cora Crawford worked tirelessly to create the center, becoming a fixture in the lives of generations of children educated there.
Cora and her husband initially lived on Section 14, in the middle of the Agua Caliente Indian Reservation, renting a house. By the mid-1950s it was widely known that the tribe wished to develop their land and residents of Section 14 were to move. Like many, Cora and her husband moved off the reservation in 1961 to a nearby apartment, then later were able to purchase a home in north Palm Springs.
Cora was a central part of the vibrant community there at First Baptist Church. She also worked create the Unity Community Center, now called James O. Jesse Desert Highland Unity Center, which served as a drop-in center for children of working and minority parents. The center provided physical fitness, drama classes, health screenings, mental health counseling, and more to underprivileged youth. By the 1980s, the Child Care Center had grown to accommodate hundreds of children of all races, about 85% of whom were from single-parent families.
Cora was a founding member of the Palm Springs Black History Committee and the yearly celebration parade the group stages. She worked to raise money for scholarships to send older children to college.  Frank and Cora had a great working relationship over the years.
FRANK WORKED WITH WOMEN TO BUILD PALM SPRINGS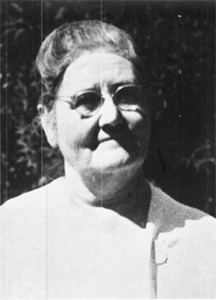 Frank worked together with the founder of The Desert Inn, Nellie Coffman, to bring worldwide renown to Palm Springs. Nellie established the "Welfare and Friendly Aid Society" which organized the business community to provide for those in need. She was also a trusted friend of her Indian neighbors. And she was a tireless proponent of Palm Springs incorporating into a city.
Frank served on City Council with many female members, including Sharon Apfelbaum, with whom he wrote his second book on the history of Palm Springs. And Frank traveled to Washington D.C. with the all-female Tribal Council to advocate for property rights for the Agua Caliente people.
FRANK WAS A TRUSTED PARTNER OF THE AQUA CALIENTE TRIBE OF CAHUILLA INDIANS
Frank worked with Richard Milanovich, Vyola Ortner and other Tribal Chairs to create workable governance of the checkerboard pattern of the City of Palm Springs and the Agua Caliente Indian Reservation. They set the example on how to coexist and cooperate, enabling the development of the Convention Center, the Palm Springs International Airport, and preserving the Indian Canyons in order to promote tourism and lift the economy in Palm Springs. 
Frank worked with Agua Caliente Band of Cahuilla Indians to allow use of Indian lands for access to water and horse trails through Desert Riders, creating maps of the mountainous trails surrounding Palm Springs generating proceeds which help to maintain the very trails that tourists and residents use today. 
THE HISTORY OF PALM SPRINGS IS ONE OF TOLERANCE AND INCLUSIVENESS
An elite Boston writer, Cleveland Amory, who had served as the editor to the East Coast Harvard Crimson visited Palm Springs in 1948 and concluded about the residents, "They are a kindly, civilized people." When he asked one prominent Palm Springs resident what the latest scandal in town was, he was surprised by the response, "There isn't any. We're too broadminded for scandal." The culture of Palm Springs has been one of tolerance and inclusiveness. Frank exemplified that. He worked with all people.
*Photographs which appear here were published in The Desert Sun and were provided by original sources